At some point you may be faced with a wall coating in such bad condition that much of it will need to removed. Where the paint is flaking and/or bubbling it can be scraped off easily but some areas of paint will remain stubbornly stuck down.
Firstly, if paint is stuck firmly to a wall then there is rarely anything to gain by removing it. However, a common scenario is where most of the paint comes off OK but what remains is in not so good a condition that it can be left untended to.
Methods of Paint Removal
If you're looking for an easy method of removing stubborn paint from walls you can leave now, because there isn't one… For those of you still around, here are a few ways of dealing with this difficult problem…
Using a pressure washer
Blasting the remaining paint off the wall with a high pressure hose can be effective, particularly where there are a lot of loose edges, because water will be forced beneath the paint surface resulting in a loss of adhesion.
Care must be taken though to avoid excessive moisture being absorbed into the fabric of the building where it can become trapped and cause more problems than it solves.
If you are opting to use a pressure washer then a hot water option with a pressure of around 20bar (300psi) will be ideal. You can hire one but given the relative low cost it's worth buying your own since you'll be able to use it for plenty of other jobs around the home.
For extreme problem areas and large commercial projects hot-water & steam-based systems are available, such as DOFF and ThermaTech, although only via specialised contractors.
Steam Stripping
For interior-painted walls a steam stripper, normally used for removing wallpaper, can yield impressive results as the combination of heat and moisture will soften many water-based paint finishes.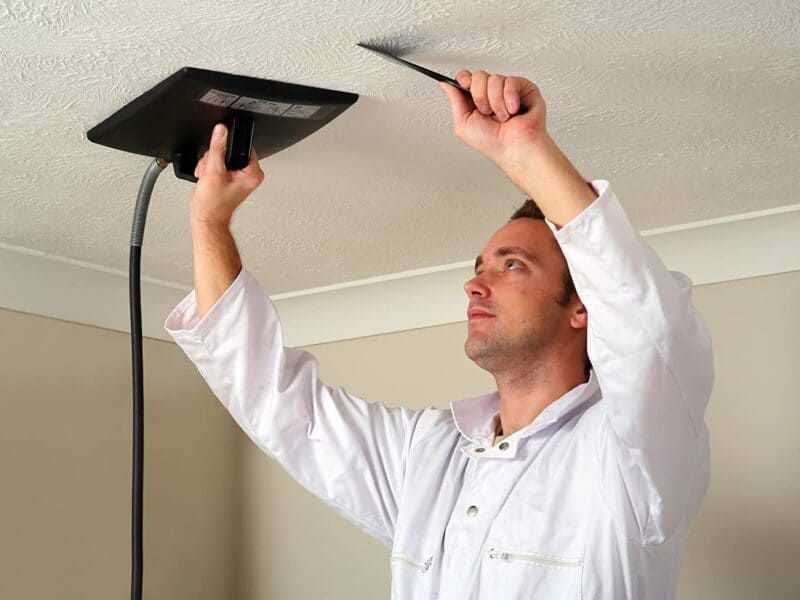 The steam will eventually get behind the paint film, causing it to swell and loose its grip on the surface. Again though, you must be careful not to allow too much steam to penetrate beneath the surface as this can result in plaster coming off the wall or ceiling.
Chemical-Based Paint Strippers
Solvent-based paint strippers are not very effective on water-based finishes. Methylated spirits can be used in small areas and paint splashes but it's not a practical solution for large areas.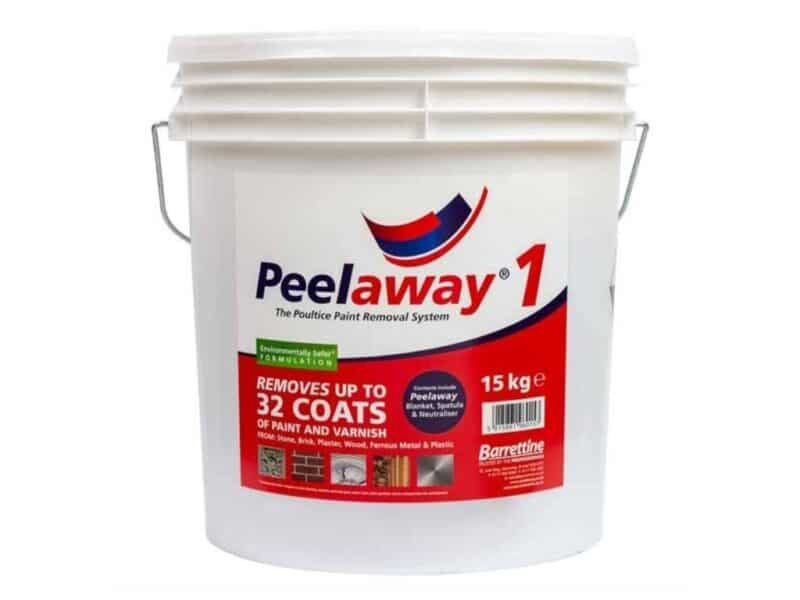 Alkaline-based, caustic strippers work well but can also be easily absorbed by porous plaster, cement renders, brickwork and stonework leaving behind harmful residues that will cause issues later on.
It is important, therefore to follow the instructions carefully and wash off any remaining material immediately after use.
Mechanical Removal
For exterior rendered walls, using a combination of a metal scraper and a stiff-bristled brush is a proven method of paint removal but is labour-intensive and will only work where the paint surface is already loose.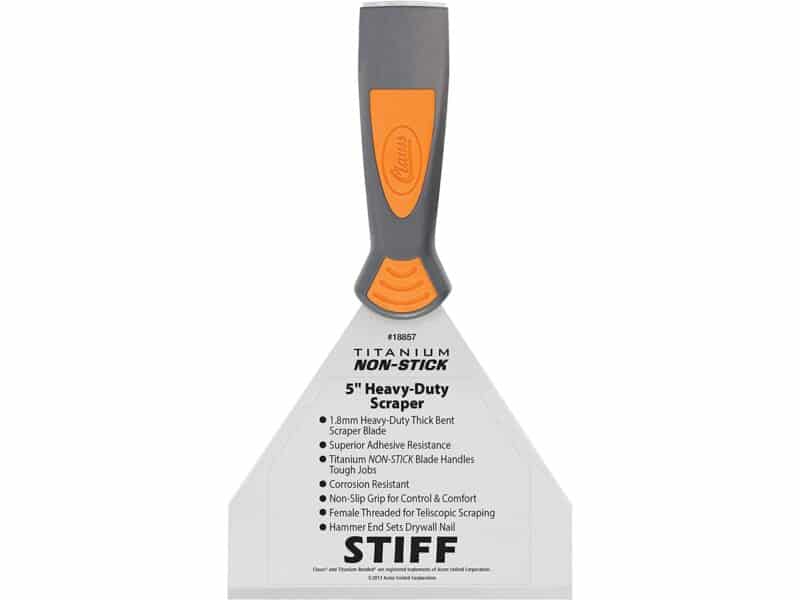 Wire brushes should be avoided since tiny pieces of metal will become embedded into the render, brick or stonework and will react adversely when they come into contact with moisture.
Using power tools with paint-stripping attachments can eliminate a lot of the donkey work on flat surfaces but don't work so well on rough stone, brick word and roughcast renders.
Blast Cleaning
Exterior sand blasting, as it's commonly known, involves firing small particles (not always sand) at the wall under high pressure, either with compressed air or high-pressure water hose. Certainly a job for a specialised contractor but the end result can be impressive.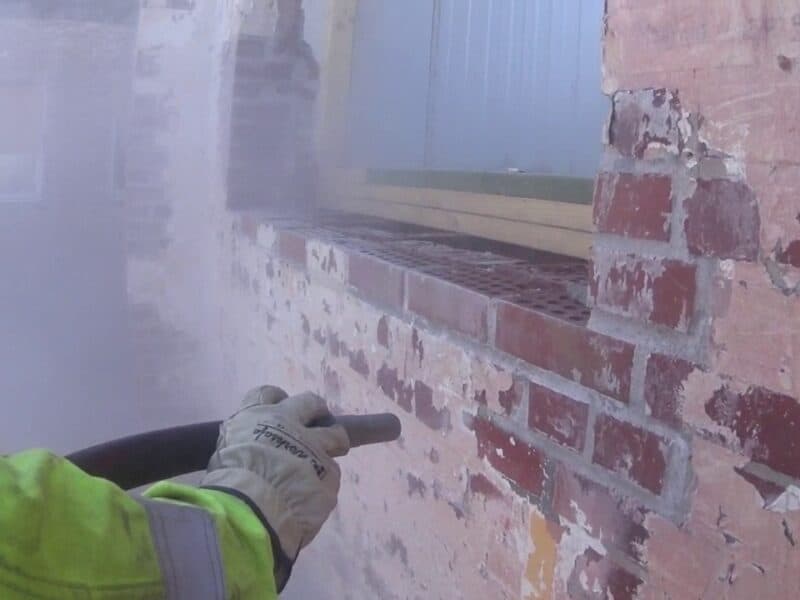 Again though, care needs to be taken not to cause damage to the fabric of the building, windows, doors and other woodwork finishes. Not all contractors have the knowledge or finesse to carry this work out in a manner that is sympathetic to the building.
Hot Air Strippers & Blowtorches
The strong heat produced by a heat gun or blow-lamp will readily dislodge oil-based paints from timber surfaces but prove ineffective on most wall surfaces.
Types of Paint Finish
Each kind of paint finish will have its ideal method of removal, some much easier than others. It's best to start with the preferred method first before resorting to more desperate measures…
Water-Based Masonry Paints
The manual method of scraper and stiff brush will be your best bet on paint that is already in bad condition and quite loose. A pressure washer can also be put to good use on large areas. Some chemical strippers can be used to a degree of success but it's largely a case of trial and error.
The general rule with masonry paints though is that if it's firmly stuck down then leave it alone.
Removing Limewash
Traditional lime-wash finishes can vary in condition from very loose and powder to extremely hard and firmly stuck.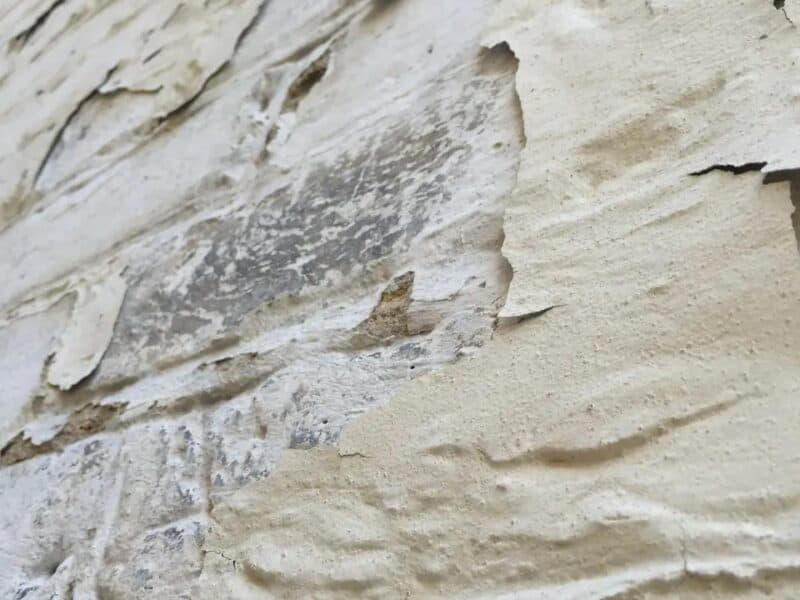 For the former case, remove all loose material with a stiff bristle brush (natural or nylon – not a wire brush) and wash/scrub away any remaining material with water and a sponge.
Removal of firm lime-wash finishes is a job best left to a specialised contractor as it will involve the use of caustic chemicals and acids.
Although you may research the subject and have a go yourself you could well end up doing damage to the fabric of the building if chemical/acid residue is not properly applied and washed away.
Removing Textured Coatings
Removing textured coating such as Artex is another notoriously difficult job although the use of a steam stripper can be most effective. Some chemical paint strippers can also be effective.
Removing Artex and other textured finishes mechanically, with a scraper or electric sander, should be avoided – not just because of the amount of dust this will create but also due to the remote chance that it may contain traces of asbestos.
Textured coatings on exterior walls such as rough-cast renders can be removed mechanically but this often results in extensive damage to the wall surface beneath so, again, should only be considered where absolutely necessary.
See Also
---