For removing oil-based paints, without the mess associated with chemical paint-strippers, an electric heat gun is often the best tool to use. The best heat gun to buy will depend on a few factors but here are a few choices to consider…
If you need to remove oil-based paint from woodwork there are a few options.
You can resort to using a chemical-based paint stripper, which can be very effective but messy and unpleasant to use. Not all chemical strippers work universally either, so you often have to do a bit of trial and error to find the product that's going to work for you.
A gas blow-torch is one the fastest ways to remove stubborn paint but, even for a professional, they can be hazardous.
An electric powered heat gun is often not the quickest method but they are the simplest option and, once you've got the knack, can be quite effective too.
That said if it's a one-off job you might not want to start forking-out for an expensive power tool you might not use again? But, there are some decent budget options available and compared to what you'll pay for chemical paint stripper, not as financially ruinous as you might think.
If, however, you envisage using a heat gun more than occasionally you'll probably find a budget machine is simply not up to the job.
A professional heat gun will have a more powerful motor, a wider range of heat settings and will be made to last. The extra cost may, therefore, be worth it?
You may also envisage a few scenarios where a heat gun could be useful other than for stripping paint?
Again, a professional model will probably be better since the option to adjust the heat output will enhance the versatility.
Which is the Best Heat Gun for Stripping Paint?
Below are 3 options to suit light, medium and heavy-duty usage. You'll find a lot more options elsewhere but most options fall between these 3 criteria no matter what brand or price range you go for.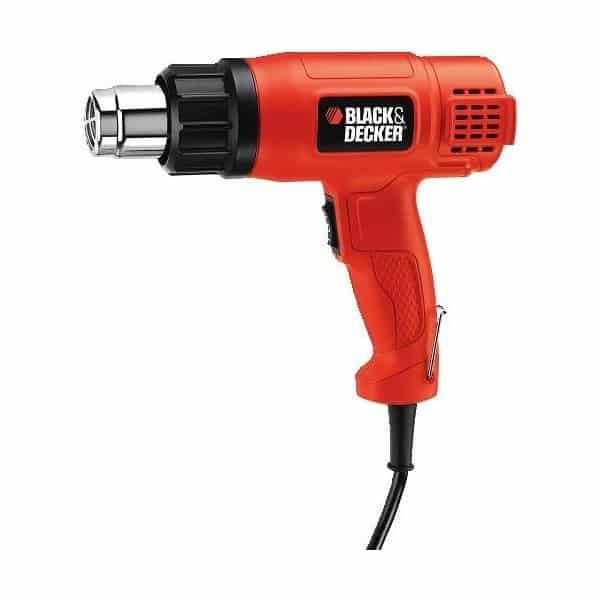 Black & Decker Heat Gun (available from amazon.co.uk) – as a budget option, the Black & Decker is fairly good value. You don't get any accessories with it, or a case, but it's cheap enough that, if you only use it once in a blue moon, you won't regret buying it.
Model No: KX1650
Power rating: 1750 Watts
Heat Settings: 2 (400-600°)
Cord Length: 2 metre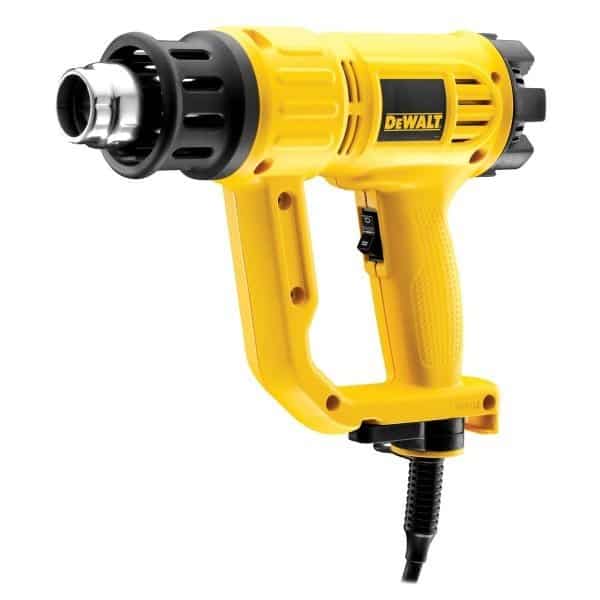 DeWalt 1800W Heat Gun (available from amazon.co.uk) – a good mid-range option, suitable for everyday use. You can adjust the air-flow to fast or slow and there's a dial on the back which allows for a fully-adjustable heat setting. Also comes with an extra fishtail nozzle.
Model No: D26411
Power rating: 1800 Watts
Heat Settings: Fully-Adjustable (50-400/50-600°)
Cord Length: 2.8 metre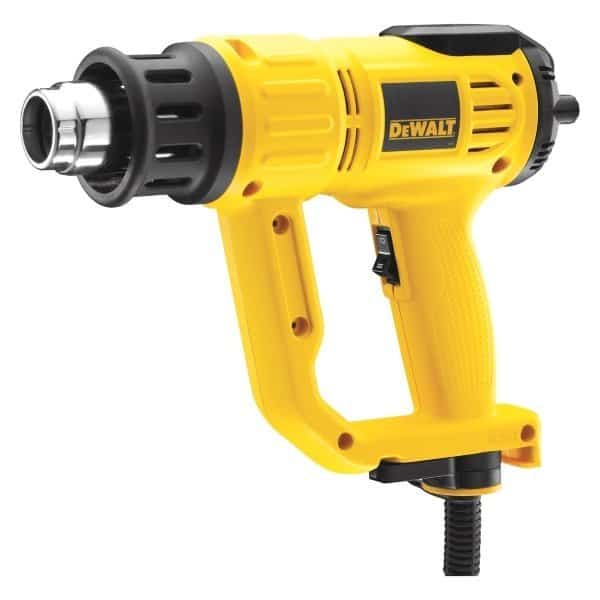 DeWalt Premium Hot Air Gun (available from amazon.co.uk) – a more expensive option but the powerful 2000 watt motor makes all the difference, suitable for trade use. A 2-speed airflow and fully variable temperature setting give you all the control you need. Also comes with an extra fishtail nozzle.
Model No: D26414
Power rating: 2000 Watts
Heat Settings: Variable (50-400/50-600°)
Cord Length: 2.8 metre
Paint Scrapers
Ironically, a heat gun on its own is totally useless for stripping paint without the addition of a basic scraper and you'll need one of these too.
You'll see all manner of fancy tools for scraping off paint but the old-fashioned shave-hook is as good a tool as you will find.
A normal flat-bladed scraper can also be used, depending on the surface you're working on but the 3-way design of a shave hook is the most versatile option.
Stanley Shave Hook (available from amazon.co.uk) – an invaluable tool for scraping paint of all surfaces flat or rounded.