Damp is a problem which affects almost every kind of property and there is not always a simple solution. Damp patches can be unsightly, at best, and, if the source of the problem is left unchecked, damaging to the structure of your home.
There are many excellent sources of information about the various forms and causes of damp in buildings (listed below for reference) but here I'll look at how damp causes problems specifically with internal decorations and offer some advice on how to deal with it.
Types of Damp in Buildings
Penetrating damp
Water can get into the fabric of a building in any number of ways – from defects in brickwork, blocked guttering, broken roof tiles, leaky plumbing and so on. In many cases these forms of damp can be difficult to diagnose as the leak may not take a direct path to the problem area internally. However, once the fault is found and remedial action is taken there should be no further problems – provided you allow plenty of time for the affected areas to thoroughly dry-out.
Once the problem is fixed and any residual damp has dried out you may need to block stained areas with an oil or solvent based sealer to prevent any subsequent discoloration but that should be about it.
Single Thickness Walls
A common problem, however, particularly with older properties, is that the exterior wall is a single thickness which allows moisture from the outside to soak its way through to the inside. In itself this shouldn't be a major problem but the use of modern gypsum plaster finishes, washable paints and vinyl wall-coverings means that this moisture becomes trapped and causes problems over time.
The solution involves ensuring that internal plaster-work and decorations are breathable – which will necessitate removal of existing plaster and re-covering with a lime based plaster followed by the use of water based paints with little or no resin content – or traditional paper based wall-coverings without a washable surface.
Another option, and one which tends to be favoured by jobbing builders is to render the exterior surface of the offending wall with a hard cement coating. This can often cause more problems than it solves as, firstly, it prevents any trapped moisture from escaping and, secondly, as the cement ages and cracks this can let in water from the outside which can not escape again.
Rendering does not necessarily have to ruled out – it just needs to be carried out competently. The render cement needs to be softer than than the surface it is applied to and any paint coatings used must be moisture vapour permeable (able to let trapped water vapour evaporate, in other words).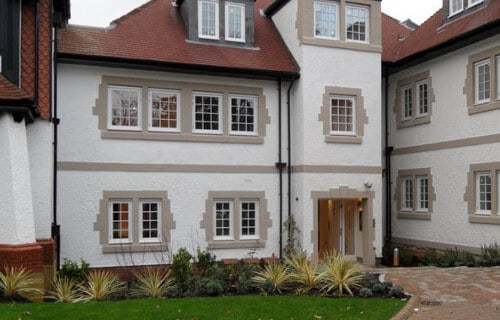 One the best known paint brands for exterior use is Dulux Weathershield and this should perform well when used correctly. Consider also mineral based paints such as those supplied by Keim. These are specifically formulated for the purpose and form a mechanical bond to the surface which results in a very durable finish whilst allowing the building to breathe as intended.
Covering Over the Problem
Of course, in many cases, a householder may not want to go down this route for reasons of cost and inconvenience in which case there are alternative ways around this which, ultimately, involve covering over the problem with a view to dealing with it properly at a later date.
Beware of what seem to be magic solution – water proof or damp proof paints will only mask the problem for a short time and will eventually fail. A tried and tested solution involves the use of pitch and foil backed lining paper (applied with a strong water-resistant adhesive) which provides a sound surface for re-decoration. It should be emphasized however, that this method should only be considered where the amount of damp ingress is moderate or where previous water damage has mostly dried out.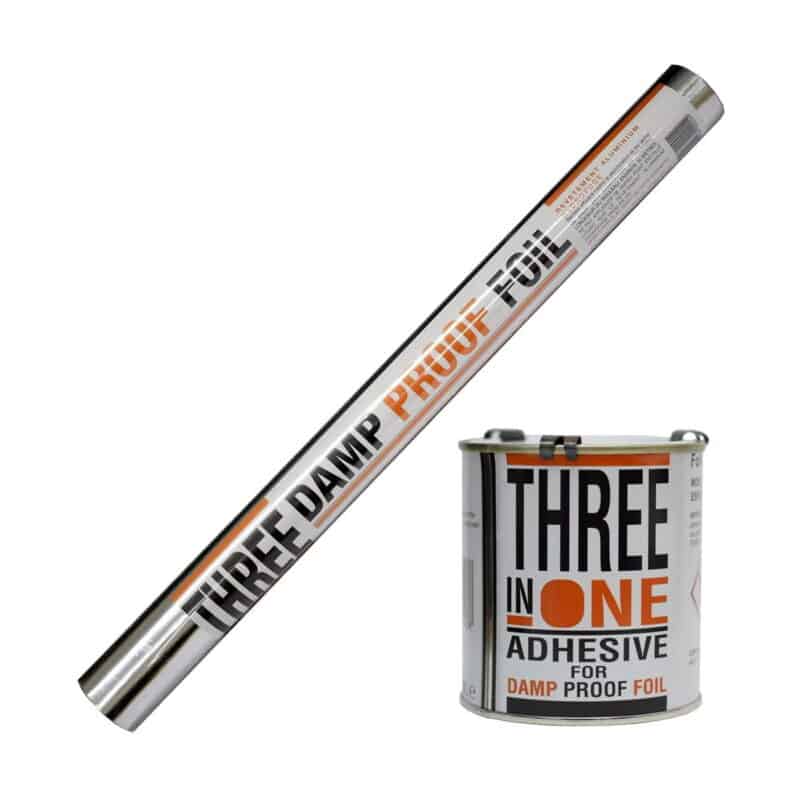 Rising damp
Rising damp is the effect of moisture movement from ground level through the fabric of the building in the absence of an adequate damp proof course. There is a lot of misinformation about regarding the subject of rising damp, mostly because the 'damp proofing' industry has an interest in exaggerating the problem and offering expensive solutions – sometimes serving to make the problem worse in the long-run by trapping moisture within the fabric of the building. Or, in some cases, simply diverting the damp problem to another part of the building.
This is not to say that there are not operators who provide a professional and effective service – just that you need to be on your guard when taking advice from a so-called 'surveyor' who is often no more than a glorified salesman.
There are three approaches you can take when trying to tackle rising damp:
1. Prevention – taking measures to prevent damp rising in the first place, ranging from the insertion of a physical damp proof course to chemical injection or more advanced measures such as electro-osmotic damp prevention.
2. Reduction – from lowering the ground levels to exterior walls and installing better drainage to replacing internal finishes with breathable alternatives.
3. Concealment – covering the problem with the use of water proof sheet materials or dry-lining.
As always, prevention will be the preferred solution but the alternatives can be effective, if done properly.
Reducing the ingress of damp to a manageable level is achievable – for instance, as with the problem with single thickness walls, replacing hard Gypsum based cements and plasters with a traditional lime based alternative will go some way to achieving an effective long-term solution – provided you only use permeable decorative finishes.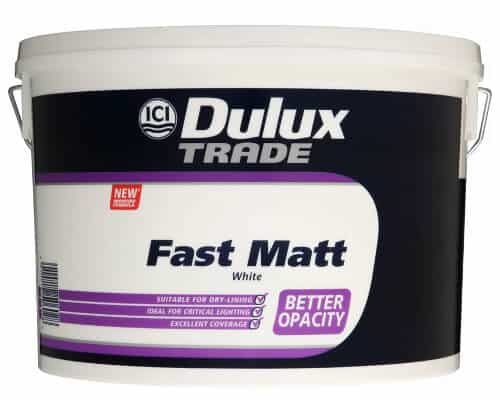 A contract matt emulsion such as Dulux Fast Matt will perform well on surfaces subject to slight damp because there is little or no vinyl content – allowing any slight water vapor to pass through the surface. Environmentally friendly lime, clay or casein based paints (or Eco paints) are very effective in these situations but can be more costly and offer less choice of colour.
Concealment of the problem can never be a good idea in serious cases but, again, where the problem is minor, it can provide satisfactory results. The traditional method of concealment would involve fixing a corrugated pitch-fibre sheet material to the wall and covering with plaster – with the inclusion of air gaps at the top and bottom to promote ventilation.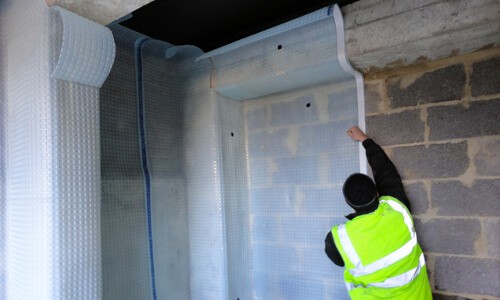 A modern alternative of this is to install plastic Platon membrane to the wall and finishing with a waterproof plaster or plasterboard dry-lining. Anyone contemplating this kind of solution would be advised to seek out a contractor specializing in this kind of work rather than leaving it to chance. Triton Systems offer a range of waterproofing solutions and maintain a list of approved installers who can offer a fully backed guarantee for all work completed.
Condensation
Condensation forms when moisture in the air comes into contact with a cool surface. This is most noticeable in areas of high humidity such as bathrooms and kitchens and is relatively simple to deal with.
Ways to reduce condensation include:
Reducing the amount of moisture produced inside the building
Increase heating levels and improving thermal insulation
Improving ventilation generally around the house.
Improving ventilation in the affected areas will solve a lot of cases – leaving a simple clean-up with a mild solution of diluted bleach or a fungicidal wash to clear any surface mould before priming with a stain blocker and redecorating.
In problem areas, where the amount of damp is quite minor, you may want to resort to using an anti-condensation paint which works by holding some of the moisture – allowing it to evaporate slowly over a period of time rather than just running off the walls and ceilings and collecting in one area – as with conventional paint systems.
Of the products on the market Rust-Oleum 5090 Anti-condensation wall paint seems to be about the best available (albeit quite pricey!). Products you'll find on the shelves of your local DIY store are generally not very good and quite expensive for what they are.
It is worth noting that old fashioned emulsion paints (the non-washable types) served just this purpose before vinyl based alternatives became commonplace – so you could, if you wanted, use a contract matt emulsion for ceilings in the kitchen and bathroom rather than fork out for expensive specialist paints which more or less do the same thing?
For more serious cases improving the thermal insulation to the cold side of the affected area may help. This may not be a simple job – depending on the area concerned and you may need to take professional advice on the best way forward. Products such as thermal linings (thin polystyrene that you stick to the wall before decorating) rarely provide a satisfactory result and are best avoided.
There are a range of products available now which dramatically improve the insulation values of internal walls but these need to be professionally installed and can be quite expensive. It's worth noting, however, that this kind of improvement can be carried out under the new Green Deal scheme – so may not involve any initial outlay on your part?
Interstitial Condensation
Condensation forming within the layers of the building fabric is known as Interstitial Condensation and this can be the most problematic and difficult form of damp to eradicate – but it shouldn't be ignored as it can contribute to a serious deterioration of the building's structure.
As our homes have become better insulated then interstitial condensation has become more widespread – incorrectly fitted loft insulation is one major culprit. The omission of a suitable vapour-check membrane (a sheet of polythene above the plasterboard) is a common problem because the work is often unseen and unsupervised – and so difficult to put right after the fact.
Further Information
Books
Websites