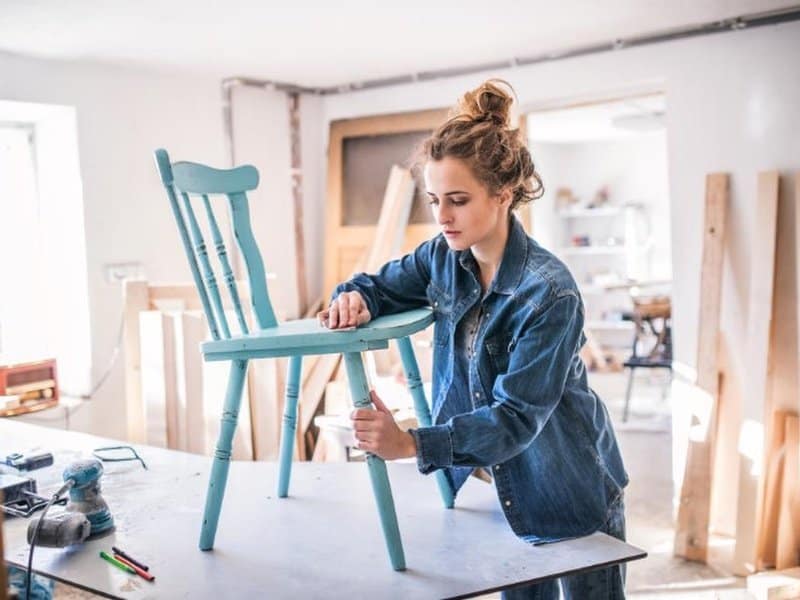 Restoring old furniture, or up-cycling, has become something of a trend of late and it's not hard to understand why.
Old furniture tends to be made from solid wood with proper joints and fittings so you can often end up with a piece of furniture far superior to what you'd be able to buy new.
A few problems you'll encounter when painting old furniture will stem from the original finish which may not be compatible with the paint you've chosen to use.
Preparation is always important but even more so when it comes to previously polished or stained surfaces.
Painting an old pine dresser
I have just purchased an old pine dresser which has been previously painted but I want to change the colour. Is there a reliable way to determine if the existing paint is oil-based or water-based?

I'd prefer to repaint it using a water-based paint if possible (probably Dulux water-based Eggshell).

If it turns out that the existing paint is oil-based then I'm happy to use an oil-based paint for better adhesion.

Many thanks in advance for any tips you can provide.
Answer
It is probably safe to assume the dresser has been painted with an oil-based paint but an easy way to tell is the appearance of brush marks. With an oil-based finish they will be much less obvious than would be the case if a water-based finish was used. In any case though, preparation is much more important than the choice of finish.
Furniture tends to get a lot of grease building up on the surface, from constant handling, and can sometimes be contaminated with polishes and wax.
It is essential this is removed by thoroughly wiping-down with white spirit and then washing with a sugar-soap solution before rinsing with warm, clean water.
Once you're satisfied here is no more grease on the surface you should rub-down the existing coating to remove any glossiness. Provided you have done this properly you should be OK to paint the dresser with a water-based finish of your choice.
For best results I would use an acrylic-primer as a base coat and to promote adhesion. You'll often find this labelled as 'quick-drying wood primer' or 'quick-drying primer/undercoat'.
Since the surface already has a coating on it you should opt for the primer/undercoat variety since this tends to be a bit thicker and will provide a good base for any other coatings.
I suggest that when you have finished painting you don't use the furniture for as long as is possible in order to allow the paint to fully harden.
Water-based finishes can be just as tough and resistant to wear and tear as their oil-based counterparts but only when they have fully cured (or hardened) – and this can take a few weeks.
Obviously, it may not be practical to wait that long but I would advise at least 2 or 3 days. You can, of course, touch-up any subsequent damage but the need is best avoided if at all possible.
Painting a Pine Table
I have painted a pine table with undercoat & 2 coats of white oil based satinwood. Do I need to sand prior to using oil based clear varnish on top & how many coats are recommended? Also will this varnish yellow the white paint?
Elizabeth
Answer
Whether to sand down the painted surface depends on the kind of finish you want. For a gloss finish I would say not but for a matt or satin finish I would say yes.
You only need to lightly rub down enough to remove and nibs in order to get a good finish. Also, use the finest grade of abrasive you can find.
Using an oil-based varnish will likely cause the white paint to yellow over time. I would suggest you use a quick-drying water based varnish instead. Once cured it will be just as durable as an oil-based finish and less prone to discolouration.
You may find that, initially, a water-based varnish will not take to a recently oil-painted surface but if you leave it harden for a couple of weeks first you should have less problems.
Also, I would recommend, you do a test area first (maybe a leg) to see what the end result is going to be before committing yourself to doing the entire table.
Hope that helps?
Reply
I was intending to use a water based varnish but was advised at the paint shop that it would bubble if used on top of oil based paint. Is that a problem you have encountered or should it be OK if, like you say, I leave the paint to harden for 2 weeks before varnish?
Answer
It is highly unlikely that it would bubble? The only problem you are likely to encounter is 'cissing' which is when the water based paint has troubling adhering to an oil-based finish. In extreme cases the top-coat will dry but with circular patches where it has pulled-back slightly while drying – I expect this is what they meant?
As I said earlier though, you can mitigate this by waiting a couple of weeks for the oil-based paint to fully cure and then it is much less likely there will be a problem.