There are hundred's of products available for filling and repairing woodwork and choosing the right one for the job can be confusing. I'm not going to pretend that I know exactly what you should be using but I am going to recommend a few products that I have used myself over the years.
There are links to online retailers although you should be able to find most of these at your local DIY store, or something very similar anyway?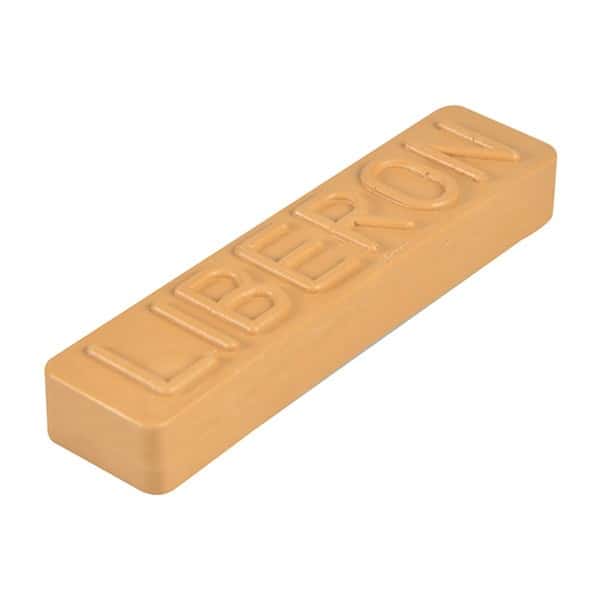 Just cut a small piece off and work with your hands until it starts to soften. Then push into the hole using a scraper or piece of stiff plastic.
It can take a bit of practice to get a satisfactory result but it's a lot better than using traditional fillers and you can even mix different colours together to get a perfect match. One stick will last you a lifetime btw. Available in a range of shades, as well as white.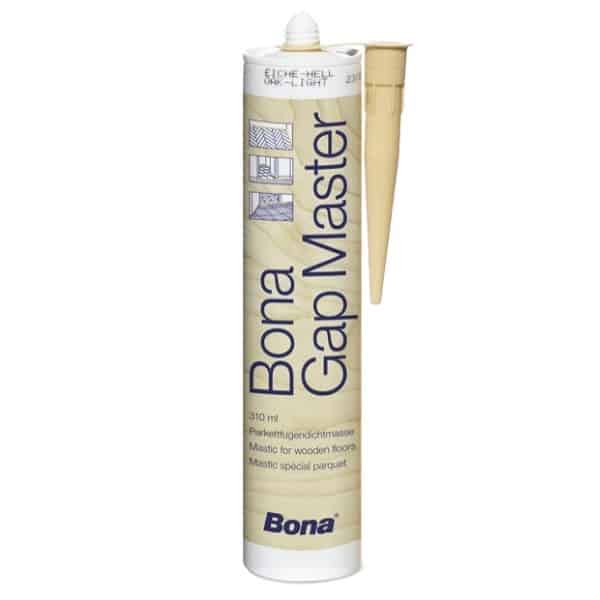 You can get coloured sealers for sealing the tops of skirting boards and around architraves but this product has a better range of colours to match natural wood shades.
When it's dry you can also sand it down, so it's also suitable for filling small nail holes and such.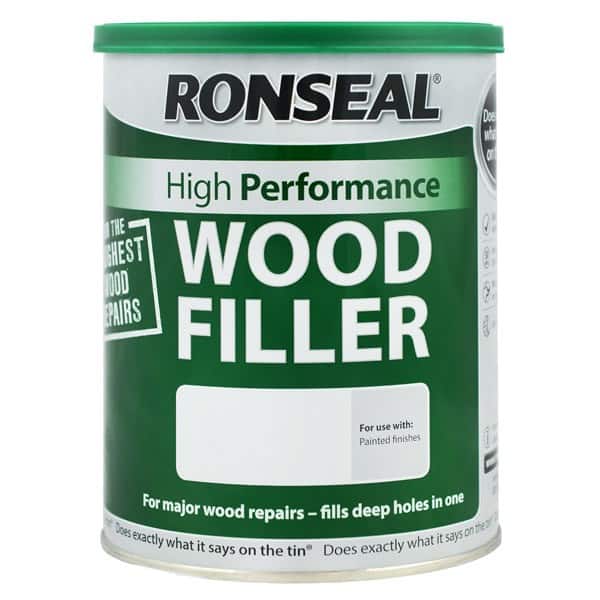 This Ronseal stuff is always decent value and comes in decent sized packs – so you'll always have enough.
If you're not used to using this kind of filler start with a small trial first so you get used to mixing the right amounts and only mix what you can use in about 5 minutes.
Also, never try and fill first-time – build-up in 2 or 3 layers so you only have a small amount of sanding to finish it off.
If you take your time you'll always get a good result and the filler will last for years. Available in light or dark wood shades as well as pure white.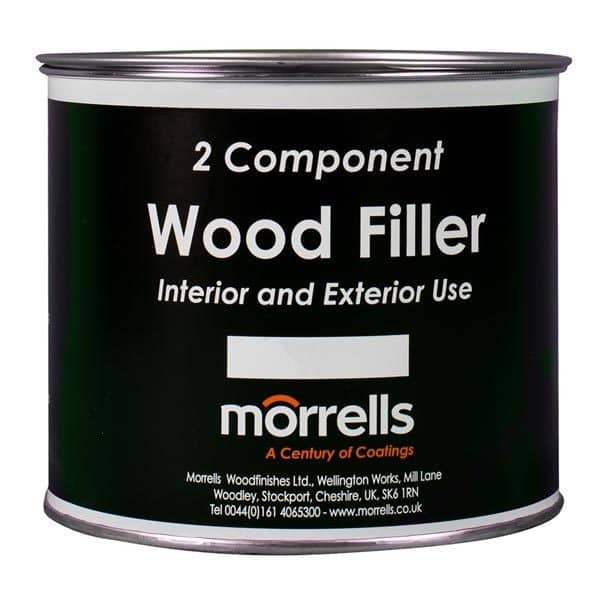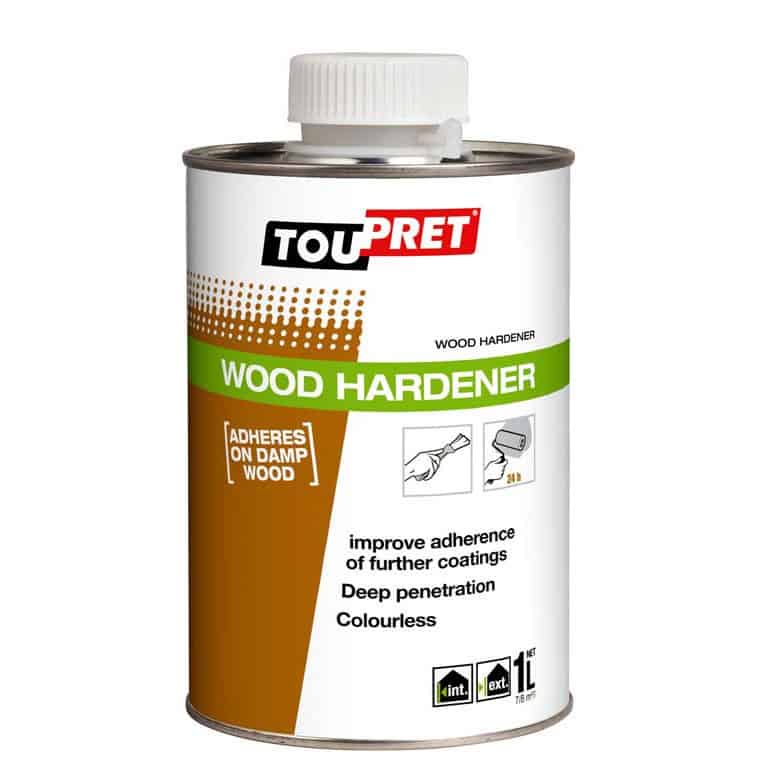 This stuff will bind together loose fibres of wood to give your repair the best chance of success and is essential if you've had to remove pieces of damp timber.
It's expensive but if your only other option is the replacement of windows, for example, it is well worth it.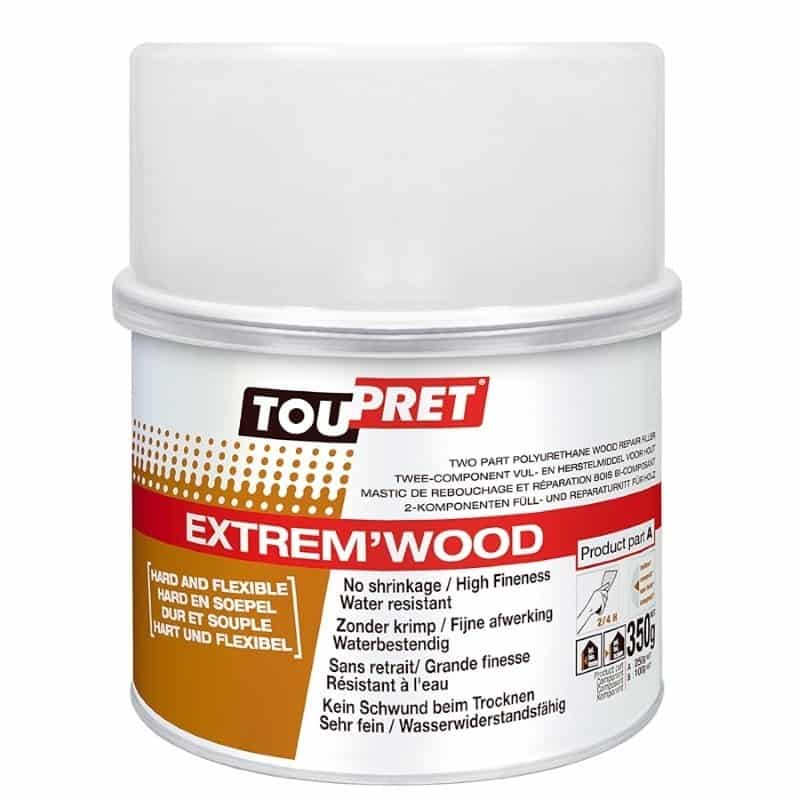 All of these fillers, except for the wax sticks, are suitable for painting or staining without the need for a primer.
For most wood filling jobs, one of these products should be all you need. You'll see a variety of different brands which all do more or less the same thing and there isn't really much between them.
The only products I would avoid for filling wood are powder based products such as Polyfilla, which are fine for walls and ceilings, but definitely not for wood.
Q&A About Wood Fillers
I have sanded back all the varnish and stain on a landing rail/shelf and filled multiple holes with Ronseal medium wood filler. While similar it is not the same; how do I stain the wood filler to get it to a more similar colour to the wood… READ MORE…

For small areas you can just dig out a small amount of filler and use coloured wax instead. You can mix together different shades to get a good match. Or use a touch-up pen.

For larger area, it's not impossible but would take a lot of skill and patience, experimenting with different solid base colours for the filled areas so that when you apply a stain on top it matches (known as 'woodgraining').

Alternatively, try an opaque wood finish.
Do commercial 2-part wood-fillers work any better than DIY ones? I've had problems finding a filler that lasts longer than 6 months…? READ MORE…

Do commercial 2-part wood-fillers work any better than DIY ones? I had extensive rot in a window-cill, which I filled with 2-part wood-filler some 40 years ago. It looked immaculate when I'd finished – but within a year, the filler had separated from the remaining timber, and I had to dig it out.

I re-did it with Dulux Weathershield Flexible filler, and whilst that wasn't nearly as easy to work with, it is still completely intact 40 years later.

A year ago, I found a long strip of rot running parallel to the edge of another cill. I dug it out, and this time tried Ronseal High Performance 2- part filler. I added some small stainless-steel screws to provide additional keys for the filler.

Gallingly, within 6 months, cracks started to appear between the filler and the timber, and it's now apparent that I'll need to re-do the repair. I suspect the problem is that epoxy- or polyester-type fillers just can't match the flexibility of the timber.

I treated the remaining timber with wood preservative before filling, and although I left it for some time to soak in, it may also be that that impairs adhesion between the timber and the filler. Dow

---

There are so many variables that is impossible to offer a definitive solution. Much depends on the state and type of timber affected and what works perfectly in one situation may fail hopelessly in another.

2-part fillers do cure very hard though and offer little resistance to natural expansion and shrinkage. Single part, ready-mixed fillers such as Dulux Weathershield do not fully cure and, consequently, remain flexible for much longer.

You may get slightly better adhesion if you use a primer or sealer beforehand and allow a couple of days for it to fully cure before filling.
I'm looking for a wood gap filler for the edge of an oak floor in a neutral/natural colour, ideally with a greyish tinge. Can you suggest anything? READ MORE…
Filler required for an external Oval wooden arch that I made. Last year I filled with ronseal two part that I have used for many years, but sun then weather has made cracks show and split . Is there a wood filler to better ronseal two part. READ MORE…

If the splits and cracks are a result of natural movement you'd need to use a more flexible filler. Two-pack epoxy fillers are great but they don't allow for much movement when cured. Ready-mixed fillers tend to perform better since they don't dry so hard and retain a little flexibility.
I am painting exterior wood. I have had to fill certain areas with wood filler. What is the best way to cover and blend in the filler? I am using wood stain, mahogany colour. READ MORE…

You can paint the areas where the filler is a light terracotta colour and then overcoat with wood-stain. This will give a half-decent match although with a bit of trial and error with the base coat colour you could get it near perfect.
See Also
---