Thanks to some very clever marketing, and a stable of great products, Zinsser have become synonymous with stain-blocking but their range of specialist primers can be confusing – and it's not immediately clear which one you should use, and for what?
Different Stains Require Different Solutions
The reason why we need different kinds of stain blocker is that there are: water-soluble stains & solvent-soluble stains – and what works on one type of stain will not work on the other because there are water-based and solvent-based primers too.
Then, because life is never so simple, there is the third kind of stain, where neither option will do the job, and only a shellac-based primer will. Therefore, to select the right stain-blocker, you have to know what kind of stain you're dealing with.
The matter is further complicated because Zinnser Primers are also formulated to solve other problems despite all being labelled as 'Stain Killers'…
So, to keep it simple, oil-based paint blocks water-based stains, water-based paint blocks oil-based stains, and shellac blocks nearly everything!
Water-Based Stain Blocking Primer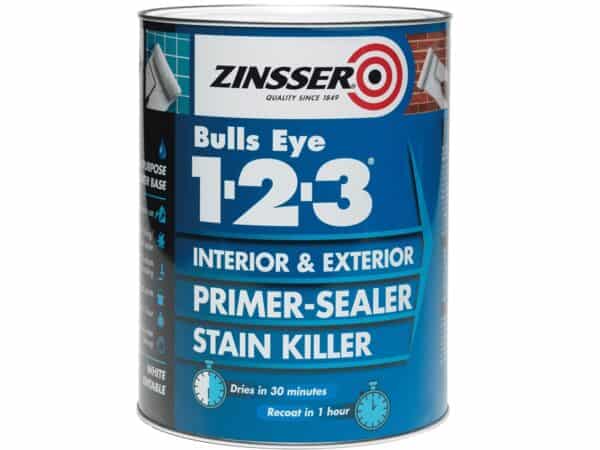 Shellac/Spirit Based Primer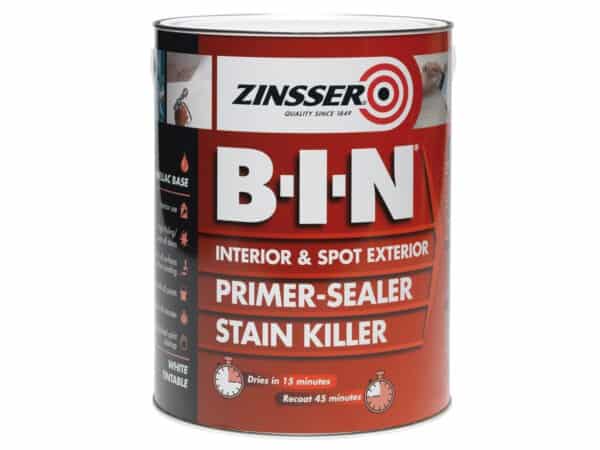 Oil-Based Primer Stain Blocking Primer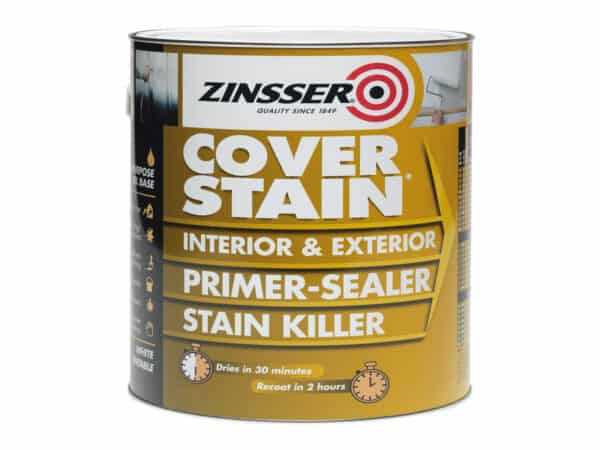 Which is Best?
Ideally, you should choose the primer that is most suitable for the problem you're tackling at the time but if I had to pick the best all-rounder…
As an all-purpose, quick-drying option the shellac-based B-I-N would be the one I'd go for although it should only be used in moderation because of its high VOC content. Cleaning your brushes is going to be a pain although most folks will just use a cheap brush and throw it away afterwards.
The water-based 1-2-3 is the most pleasant and easiest to use and easy to clean up, it also has a low VOC, content so is safe to use anywhere in the house. Admittedly though, 1-2-3 simply won't work against the most common stains such as water and nicotine, so far from perfect.
The oil-based CoverStain, is therefore, a more suitable option in a lot of cases as it will cover the most common types of stain and cleaning up is just the same as any other oil-based paint.
Zinnser Primers are available from…
---
Any Alternative Stain Blockers?
Sure, there are plenty. If you don't want to pay for a specialised primer then, in a lot of cases regular water-based emulsion can block some oil borne stains and an oil-based undercoat will be effective against most water and nicotine stains.
Bear in mind though, Zinsser primers have more than one purpose and can be useful to have to hand whenever you come against a problem such as poor adhesion, for example.
As for other brands, Glasgow based Smith & Rodger make a shellac-based primer called BlockAde which is just as good as Zinsser's B-I-N.
Polycell, Dulux, Ronseal, and most other paint brands, also have their own versions, which do the job well enough.
*VOC (Volatile Organic Chemical) Content:
Regulated maximum for One-Pack Performance Coating is 140g per litre for water-based paints and 500g per litre for solvent/oil-based paints
1-2-3 – 30g per litre
B-I-N – 550g per litre
CoverStain – 335g per litre
*The Volatile Organic Compounds in Paints, Varnishes and Vehicle Refinishing Products Regulations 2012 [link]
See Also
---