Search for the term 'Can you paint uPVC?' and you'll get lots of results telling you that of course you can and 'here is the special paint you should buy from us' or 'we are experts in painting uPVC windows & doors, call us for a quote', etc…
Obviously, these results are somewhat biased and don't give you the full answer. Just about any surface can be painted but whether it is a good idea is not always so simple. In the case of uPVC, it should be always be a last resort.
In the 1980's, when uPVC began to be used in the manufacture of windows and doors, it was hailed as a game-changer that would eliminate the need for regular maintenance and painting and, to a certain extent, this was true.
However, over time, the plastic will fade and start to look shabby. Replacement is the obvious answer but this can be a costly exercise, especially if it is just for aesthetic reasons.
In such cases, it may be worth considering using paint to freshen up the appearance of your windows and doors, or to take the opportunity for a new colour scheme.
What Paint to Use on uPVC
Multi-surface coatings are most commonly recommended for painting uPVC windows and doors, Bedec Multi Surface Paint & Zinsser AllCoat Exterior being the most popular…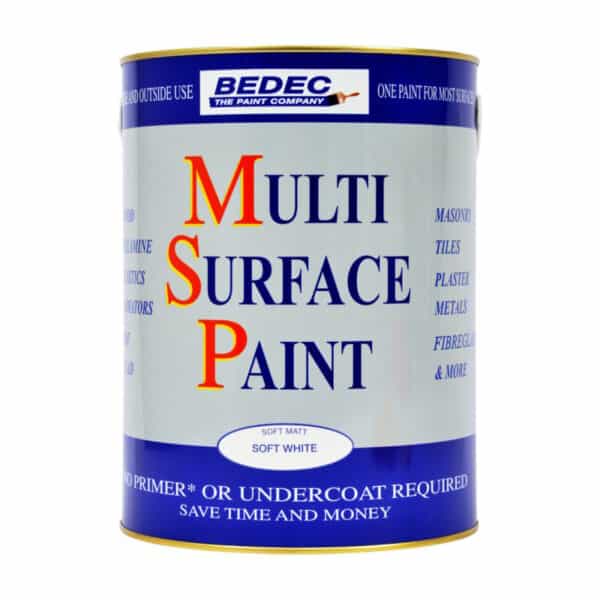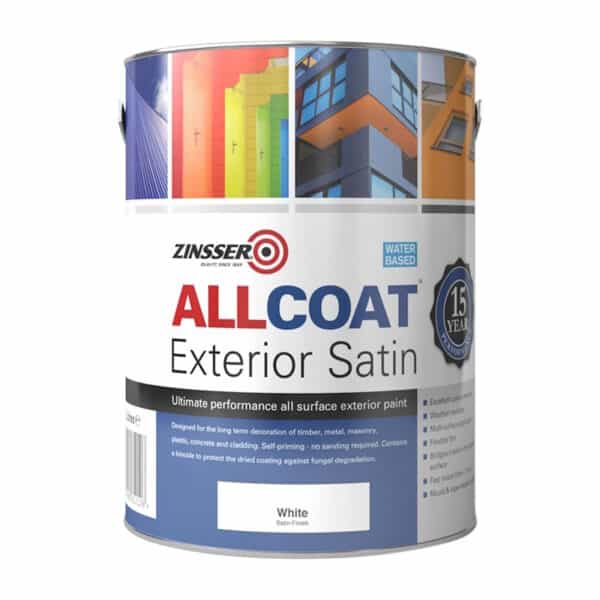 These adhesive-based paints do perform quite well and come in a wide range of contemporary shades but, long-term, are unlikely to last for the simple fact that they are an all-in-one solution combining a primer and finish in one convenient product.
As with all such paints they are a compromise and can never outperform a multi-coat system that combines the best adhesive qualities of a bonding primer, the opacity of an undercoat plus the durability and sheen of a satin or gloss finishing coat.
The Best Paint for uPVC
Ideally, you should use a separate bonding primer that's been formulated for problem surfaces such as uPVC. This does add to the cost and time required to complete the job but the difference in performance will be worth it. Zinsser Bulls Eye is a proven trade option that will ensure you get off to the right start…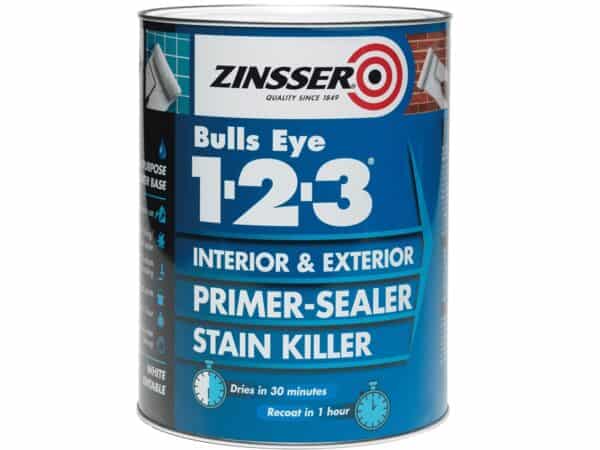 Once the bonding primer has been applied and allowed to dry you then have a few finishes to choose from. A traditional undercoat and gloss paint combination will perform well enough although a system such as Weathershield, which has been formulated for exterior use, is the ideal choice.
Here you can opt for one coat each of undercoat and gloss or a two-coat satin finish…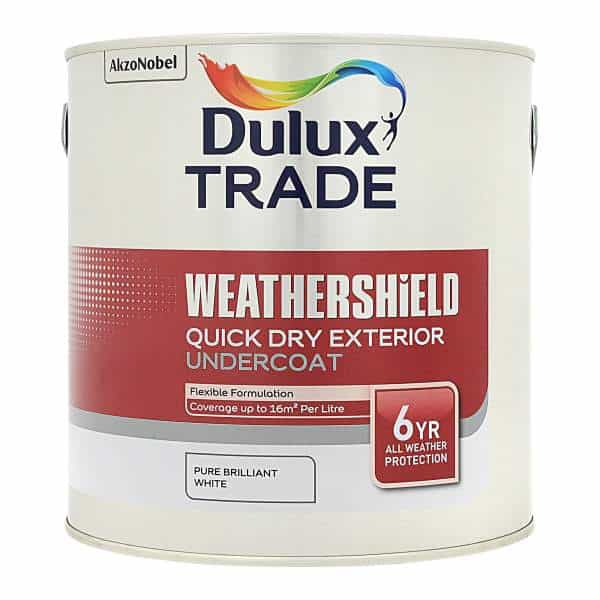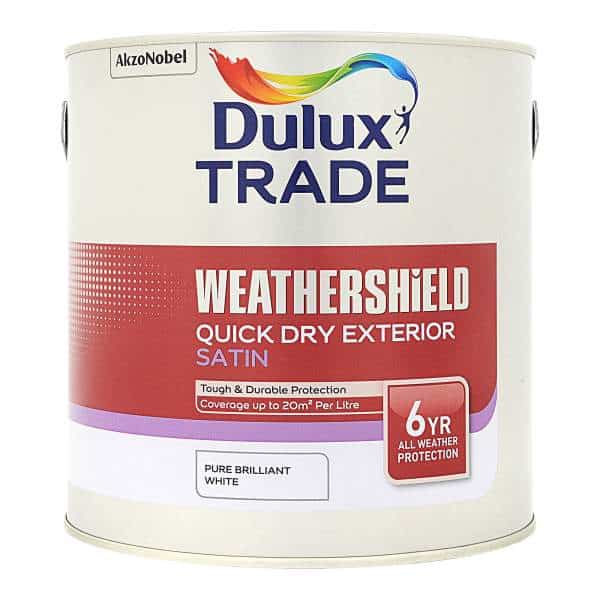 Oil or Water-Based?
Contrary to popular opinion, water-based primers and finishes tend to perform better on exterior surfaces for the simple reason that they stay flexible for longer and do not become hard and brittle in the same way that oil-based paints do.
One downside is that water-based paints can take a longer time to fully cure and are more susceptible to scratching and peeling in the short term. It is important to protect these finishes for a few days therefore after application to prevent damage that will necessitate touching-up for perfect results.
The advantage oil-based paints have is that the film flows better which results in a smoother, glossy finish with less evidence of brush marks. If this is important to you then it may be worth using a traditional undercoat and gloss finish.
Preparation is Everything
Adequate preparation is always important with any painting project but never more so in the case of painting uPVC where any trace of oil or grease will ruin the finish and long-term performance of any coating.
Firstly, thoroughly wash all surfaces down with a solution of sugar soap and water, rinse and dry. Then wipe surfaces down with methylated spirits to remove any stubborn traces of oil and grease that remain.
Rub-down all surfaces to be painted with a fine abrasive, taking care not to make any deep scratches that will show through the final finish.
The aim is to slightly dull the surface to remove the glossy finish, no more than this. Flexible sanding pads are ideal for this purpose and can be used wet for perfect results, they are also great for getting into all the complex grooves and profiles that are common with uPVC door and window fittings.
After sanding, wash-down the frames again to remove any residue and ensure any dust is brushed and/or vacuumed away before painting. Sand between coats and dust off or, ideally, use tack cloths.
Doors, Window Furniture, Rubber Seals & Gaskets
Door handles, letter boxes, etc can be easily removed for the ideal finish but window fittings may be problematic and, unless you are confident that you can re-fit afterwards, masking tape is the best solution for these awkward fixtures.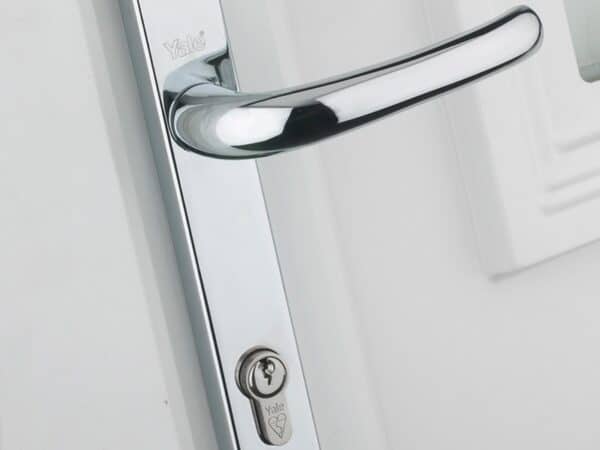 When changing colours, or where fittings have significantly degraded, it may be worth replacing these with new at the same time? Many parts are standard and can be purchased online from specialist hardware retailers as well as Screwfix, Amazon, eBay, etc.
Also bear in mind that most uPVC windows and doors will have rubber seals and gaskets that need to be protected from any paint coating, not just for aesthetics but also to ensure they stay flexible in order to keep out rain and drafts. Careful application of masking tape will pay huge dividends here.
uPVC Spray Painting
A sprayed finish will usually look better, sometimes indistinguishable from a factory finish, but it's not a job for an amateur.
There are a number of businesses now offering a uPVC spraying service where all your doors and windows can be re-furbished, often in the same day. Whilst it may be a tempting option it can be expensive with often disappointing long-term results.
Firstly, the incentive to skip the bulk of preparation is very high for these firms that are here today and gone tomorrow as is the choice of materials used, usually one-coat systems that look OK at first but will degrade rapidly over time.
Bear in mind also that many of these firms will offer guarantees that prove to be worthless since they will often liquidate and reform the same company time after time, keeping the same website and marketing with a subtle change of trading name that absolves the owner of all liability.
There will, of course, be reputable firms out there but, given the number of cowboys currently operating, due diligence is essential when selecting a firm to go with.
If you would prefer a spray finish there is no reason why you can't employ a local decorator to do it for you. The visual end result will be just as good and it's more likely that thorough preparation has been carried out so the system lasts much longer, and, likely, at a fraction of the cost.
In conclusion then, painting uPVC windows and doors is not advisable unless the appearance is so poor that the only alternative is expensive replacement.
The quality of finish and long-term performance depends a lot on how well the work is prepared and the choice of paint system used.
Also bear in mind that, as with all painting projects, this is not a one-time solution and you will need to touch-up and repaint at regular intervals in order to maintain a good finish, usually every 3 years or,sometimes, sooner. Exterior doors, especially, take a lot of punishment and it's inevitable that you'll get frequent scuffs and scratches.
See Also
---