Ceramic tiles are supposed to be a permanent wall finish. But maybe you've just moved into a new home where the previous owner's taste doesn't match yours? Or you might want to just give your bathroom an inexpensive makeover?
Painting over ceramic tiles may seem like an easy option. But the smooth surface presents a problem to most conventional paint finishes.
The Choices
The only real way to tackle this problem is to re-tile – which is going to be messy and expensive.
The next alternative is to tile over the existing area. It's possible, but you'll face problems behind taps, at the junctions of door architraves, skirting boards, etc.
You also need to do a bit of preparation (such as abrading the existing tile surface to create a 'key') and use an extra-strong adhesive.
The third method, and one which will never be 100% successful is to paint over the tiles with a 'special' tile paint.
This is the method many people opt for because it seems like the cheapest and easiest way to get the desired result with the least amount of effort.
I would never advise anyone to do this as experience has taught me that it is simply a waste of money and effort in the long run.
But if you must insist on going down this route then here are few tips to give you the best chance of success.
Preparation is key
Firstly, it is essential that the tiles to be painted are thoroughly cleaned with a solution of sugar-soap to remove any traces of grease and dirt.
Then (and this is essential) you should rub down the surfaces thoroughly with wet and dry paper used in combination with clean water in order to provide a key for the paint to stick to.
The result you should be aiming for is to remove as much glossy surface as possible so the entire area has a matt surface – not just scratched here and there.
When you've completed this task (and it will be hard work) you'll need to rinse the surface again to remove any residue and to dry the area thoroughly before applying any paint.
You'll also get a better result if you can rake out any traces of silicon sealant around the bath/shower and sinks with a view to renewing this when the painting is completed.
If you can't remove the sealant, or don't want to, then ensure this is 'masked off' – as no paint will stick to this successfully.
Special tile paints
There are a few tile paints on the market all claiming to be the answer to your prayers. But many of them will be no more more successful in providing a durable finish than would any other kind of conventional house paint.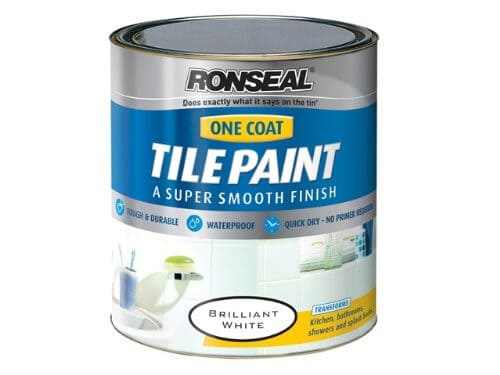 Of the products available adhesion primers and surface preparation solutions tend to work best. Although they can be pricey!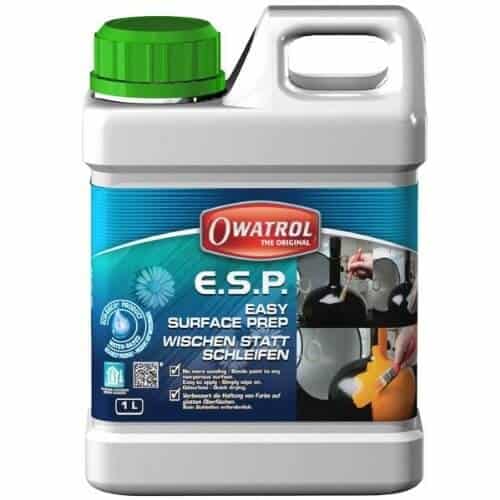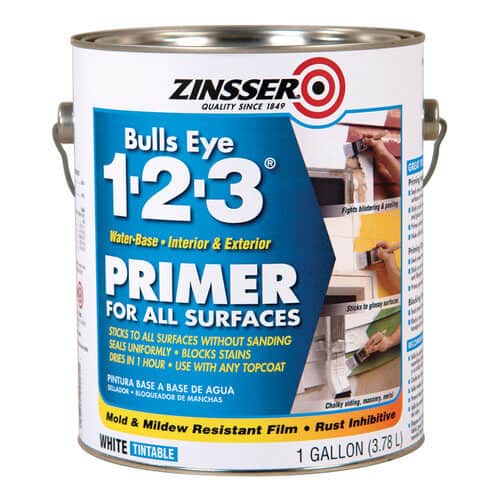 Some decorators swear by this stuff as a solution to every problem imaginable. While I wouldn't go quite so far it does the job just as well as any other solution.
Application
Ensure the room is adequately ventilated whilst painting and take plenty of breaks as you go.
Paint fumes can be harmful to health if breathed in over prolonged periods – this includes modern water based versions which are are more pleasant to the smell but can be just as harmful!
For best results you'll need to 'cut-in' the corners and edges as you go with a small paint brush (whatever size you feel comfortable with) and paint the large areas with a roller.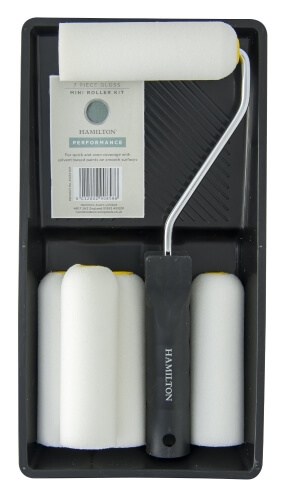 You'll probably need at least two or three coats to get a satisfactory coverage – the first coat being purely for adhesion.
Leave overnight between coats and at least 24 hours before you use the bath or shower – the longer you leave it the better really as paint can take a few weeks to fully cure and harden.
For a really stunning result you could pint fine white lines over the old grouting but it might take a few attempts to get just right.
Of course, how long all this will last depends how well you've prepared.
Also, you shouldn't use anything abrasive, like cream cleaner, to clean the tiles afterwards. It will just remove the paint surface – and then you'll be back to square one!
Comments
Can I paint a bathroom floor, it's one put in by council for my elderly mother for her same level shower. It has mica type bits in…? READ MORE…

Can I paint a bathroom floor, it's one put in by council for my elderly mother for her same level shower. It has mica type bits in. (Ten years ago, she has passed on eight years ago).

It's really hard to clean as it chews up most mops and only a scrubbing brush works. It is now dark water marked where the shower is although still a pretty pink the other half of the room.

It will be really complicated and expensive to replace as it is bonded to the floor, goes up the sides like a skirting. But I need to make it look better! Are there any specialist paints that would do the job. It needs to withstand being in the shower itself. Thanks for any suggestions. Biddy

---

You could use a standard floor paint. Make sure that the floor is thoroughly cleaned before hand, rinsed of any detergent residue and completely dry.

I can't guarantee how long this will last because I don't know what state the floor is in now, how well you will prepare the surface or the quality of paint you'll be using but it's the easiest and cheapest solution to your problem.
Will rustolium multipurpose paint work on bathroom wall tiles and be water proof? Most times are white but some have blue on and the boarder is blue so would like to paint those bits. READ MORE…

You should be ok but the blue bits will require at least one more coat. Maybe worth doing a trial area first before committing yourself?

The paint is waterproof but the most likely cause of failure is abrasion. For example, an area by the door where people are constantly brushing past. Such areas may need redoing more often.
White tiles in bathroom are fine but a narrow border between them of gold coloured tiles spoils the effect. Is it easy to take border off and replace or simply paint them an alternative colour? READ MORE…

I would always advise to take off and replace the offending tiles, if it is practical to do so.

You may get an acceptable result by painting the border but it will never be a permanent solution; the fact these tiles are gold coloured may help or hinder the performance depending on how it has been applied?

Maybe worth a try but don't be prepared to be disappointed.
Will Dulux Bathroom Paint cover tiles? READ MORE..

Not without a specialist primer – no.
Thanks. Good honest advice, looking forward to my bathroom tile painting adventures. READ MORE…
See Also
---