In recent years there have been a number of changes to the domestic paint market; water-based alternatives to common gloss and undercoat are now well established and paint manufacturer are cottoning to the growing demand for environmentally friendly paints.
Also, parents who want to give their kids bright colourful rooms without the fumes will doubtless be researching the merits of organic paint and decorating materials which are being marketed as non-toxic and safe for children's rooms.
However, some of these eco-friendly products can be quite expensive, the claims made may be misleading and you could be wondering if it's really worth paying a premium for organic paint – or are regular paints safe enough nowadays anyway?
Background
Virtually all brands of traditional household paint contain chemicals which are considered to be hazardous to health and the effects of fumes given off during the drying process can linger for years afterwards. * Legislation is now in force to limit the amount of Volatile Organic Compounds (VOC's) used in paint.
Ironically, the progress towards better energy conservation in buildings with the widespread use of double glazed windows, draught exclusion, cavity wall insulation and warm roofs may have made the average home more energy efficient but as a side effect, the amount of natural ventilation has reduced significantly. This only compounds the build up of harmful fumes within homes.
Those most at risk are professional decorators who work with paint all the time but it makes sense to reduce the hazards, however minimal. Parents of children with allergies or respiratory conditions will also want to use natural products free of any chemicals whenever possible.
Eco Paint
As a result of the regulations most paint manufacturers are now offering some form of 'organic' or 'environmentally friendly' paint range as a way of convincing customers of their commitment to the environment – although in reality they had little choice in the matter and are simply putting a positive spin on it.
Crown have introduced their Breathe Easy range of emulsions which are low in odour and 99% solvent-free. Dulux have the Ecosense range of matt emulsions and satinwoods with reduced solvent content and 20% recycled packaging – bless 'em.
Fashionable brands such as Farrow & Ball and Fired Earth don't say much about their environmental credentials because they use basically the same formulas for their paints as the large chemical companies do – albeit with slightly better quality raw materials. They do however state that they meet the current standards – just like everyone else does?
So if the current standards are good enough, what are the organic and environmentally friendly paints offering that other paints supposedly don't?
Confusing Marketing
Many of the terms used for marketing paint can be confusing – organic paint, for instance, is simply paint which contains carbon compounds and many of the water based gloss paints being marketed as 'environmentally friendly' contain more chemicals than the oil based paints they replace. Low odour paints may be more pleasant to use but just because you can't smell the fumes doesn't mean that they are not still present.
Some other terms used and what they mean – in plain English:
Titanium Dioxide – a white pigment commonly used in many paint and household products including toothpaste. Although not hazardous to health its use does have a high impact upon the environment in terms of the energy used and the pollution caused as a result of its production.
VOC's – Volatile Organic Compounds are the chemicals which are released into the air via the solvents used in paints.
Organic Paint – In chemical terms 'organic' refers to compounds containing carbon and is not to be confused with organic food or farming methods which are another thing entirely. A paint company using the term organic to market their paints really ought to know better?
Micro-porous Paints – also known as 'moisture vapour permeable' or 'breathe-able' paints. Unlike conventional vinyl paints they do not form a barrier on the surface and allow any trapped moisture to evaporate through the surface. These paints are especially useful in Victorian or older style properties with single-skin walls which are susceptible to penetrating damp.
Aside from regular finishes like matt or satin emulsion; eggshell and gloss, which you'll probably be familiar with, there are a few other products which are associated with environmentally friendly paint products:
Casein Paint – said to be the most natural of paints, Casein paint is made from milk proteins and white lime. Supplied in powder form to be mixed with water casein paint has a natural soft white finish but can be coloured with the addition of special pigments. Ideal for older properties this paint finish contains absolutely no VOC's, oils or solvents and is both long lasting and simple to apply. You can also buy a Casein filler as an environmentally alternative to Polyfilla!
Claypaint – as the name suggests Claypaint is a water based matt emulsion made from natural clays and is entirely VOC and solvent free. Because of its breath-ability Claypaint is especially suitable for externally-facing walls of older properties where damp penetration is a problem. And because of a high solid formulation the colours have a deep, 'earthy' tone which can be very effective in the right environment.
Mineral Based Paints – paints containing pure potassium silicate or sodium silicate. These are often used as an expensive high performance alternative to conventional masonry paints but have excellent environemntal credentials due to the lack of solvent binders.
Paint Labelling
There is a mandatory labelling system in force for all paints containing VOC's. The label will give the legal limit for the class of paint per litre as well as the actual content of the product. The (2007) figure refers to the limit when the act first came into force as well as figures for (2010), the stricter limits which now apply.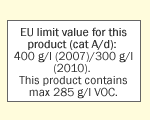 As you can see this system can be a little confusing but there is also a voluntary labelling system in use, initiated sometime ago by B&Q for their own paint range, which has been widely adopted and is a lot simpler to understand.
Paints with a high or very high VOC content will be industrial paints and coatings and those with a low or minimal rating will be paints designed for home use. Paints with a medium rating will include products like conventional gloss paint and specialised finishes which are safe to use provided some precautions are taken.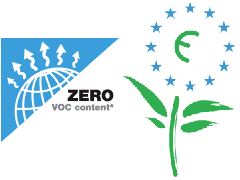 There is also a label for paints with a zero level of Volatile Organic Compounds, meaning VOC levels are so low as to be considered negligible, as well as the European Eco-label which distinguishes products meeting high standards of both performance and environmental quality. Every product awarded the European Eco-label must pass rigorous environmental fitness trials, with results verified by an independent body.
Natural Paint Manufacturers
There are a few companies who have always produced paint products in one form or another which can be described as 'eco' or 'natural'. However, some eco paints contain no synthetic materials at all whilst others contain a minimal amount – so not all natural paints are the same.
This is an overview of some of the main UK producers of eco or natural paints and their ranges. We are not picking any out in terms of commendation as each have their own merits and paint production is always a compromise over materials, performance and cost. All of the companies listed have their own philosophy and all make claims as to why they are the better choice.
In truth there is no perfect answer and you should take your time to read through all the options before making your choice. Generally speaking, clay based paints and those using vegetable based solvents are more natural but those with very low or 'minimal' amount of chemicals may be more economical and perform better over time.
AURO Natural Eco Paint – Auro is a German company operating within the UK and claim that their paint products contain 99% natural materials and use no petrochemicals, acrylics or alkyd resins.
They produce a full range of paint finishes including matt emulsion, lime renders, natural wood finishes and gloss paints. Auro publish data sheets for each of their products together with a full list of ingredients. Products include:
Matt Emulsion – with micro-porous characteristics, no fungicides or chemical preservatives;
Gloss paint – solvent-free and water based with a plant based binding agent;
Chalk Paint – a ready-mixed chalk-based wall finish for historic properties and on lime based renders.
Earthborn Paints – Eathborn is a UK based company who claim to be the leading producer of eco paint. They have accreditations including the EU Ecolabel and their paints contain zero volatile organic compounds. All Earthborn products include a full list of ingredients. They also proudly claim that their paints are all water based and contain no oils or acrylic softeners.
Earthborn's premium product 'Claypaint' is an alternative to traditional emulsion paint and is ideal for older properties as it allows the walls to breathe rather than holding moisture behind a barrier which will inevitably build up and cause problems.   They also produce a range of eco-friendly finishes including:
Ecopro Emulsion – acrylic and VOC free Ecopro is a green alternative to conventional matt emulsion;
Casein Paint – a soft matt finish free of all VOC's, acrylic, oils and solvents;
proAqua Eggshell — a quick drying water based, VOC-free finish for interior woodwork.
Ecos Paints – Ecos claim to be the world's most popular brand of organic paint and declare their products are as natural as can be. They produce a range of paint finishes including a special 'nursery paint' which has been specially formulated for 'toughness' and 'wash-ability'.
Ecos also produce a full range of finishes including:
Wall Paints – VOC free emulsions in matt, soft sheen and eggshell, Claypaint and Limewash;
Wood Finishes – VOC and solvent free gloss paints, satin, primers and woodsatins; and,
Specialist Paints – environmentall friendly MDF paint, radiator paint and 'air-purifying' wall paint.
Little Green – Little Green is an independent UK based paint manufacturer that can trace its routes back to 1773. They produce a full range of paint finishes including acrylic based emulsions, eggshells and water based gloss as well as oil based gloss finishes for use on radiators and woodwork where durability is key.
They also produce a form of traditional lime-wash and distemper for a truly authentic 'vintage' finish as well as a range of wallpapers inspired by heritage, vintage and classic oriental designs. In 2004 Little Green were one the first UK paint manufacturers to achieve the European environmental standard BS EN ISO 14001 and all of their water based paints have one of the lowest levels of VOC's at virtually zero. Their oil based paints have been reformulated with sustainable vegetable oils in order to reduce the solvent content and resulting odour.
Little Greene paints are available to buy online from johnlewis.com
References & Further Information
Legislation
UK Legislation – The Volatile Organic Compounds in Paints, Varnishes and Vehicle Refinishing Products Regulations 2005 – came into force in 2007 and was further enhanced in 2010.
Reducing the emissions of volatile organic compounds (VOCs) EU directive 2004/42/EC – the European Legislation which the act is based on.
NBS Technical Article – August 2011 – Eco Paints
Comments
What breathable fillers are available? READ MORE…
My wife suffers from chronic obstructive pulmonary disease and her bedroom needs redecorating. The decorator says it will need three coats of emulsion. Would this be wise? READ MORE…

It is likely that this would aggravate her condition, albeit, temporarily so it is a matter only you can decide upon. You can, however, mitigate the effects by using a paint with very low or zero VOC content and ensuring thorough ventilation for several days after the work is complete.

I have a friend with a similar condition who has put off doing the same for some time. It has got to the stage now where his bedroom really needs doing and I have suggested he go away for a couple of days while the work is completed.
I am looking for an eco friendly but particularly hard wearing non flaking external wood paint. Preferably not white – a subtle cream colour. Hope you can help? READ MORE…

Mythic Paints make a range of non-toxic paints which are available in a range of soft tones. Their exterior paints are available in flat, satin or semi gloss finishes. Available from all branches of Brewers Decorators Merchants.
See Also
---